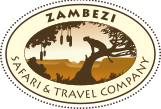 Contact Person:
Zambezi Safari & Travel Co LTD
Telephone:
UK: +44 (0) 1752 878858 | USA: +1 (347) 708 1794 | CAN: +1 (647) 694 1402 | AUS: +61 (2) 8417 2176
Zambezi Safari & Travel Co Ltd was formed in the early 90's when their reputation was built on privately guided safaris and walking and canoeing trails in the Zambezi valley in Zimbabwe. Always on the look-out for alternative safari destinations and adventures across Africa, Zambezi has spread their wings and today provide custom safaris across southern, central and eastern Africa. Zambezi Safari and Travel Company work with Africa's premier professional guides who are experienced in the more remote and wilder destinations. Areas where few people travel and the game viewing is excellent. Whether you're looking for a big game experience, wild camping or luxury safari accommodation, Zambezi offer extraordinary journeys for all ages. On hand for advice every step of the way, you're sure to find what you're looking for and the African Safari holiday of your dreams. The company's head office is in the UK but they have operational and sales offices in Kariba, Victoria Falls and New York. The company offers unrivalled customer service, free expert advice, honest unbeatable pricing and safaris tailored to client's needs. Their track record in running 1st class safaris since 1995 has resulted in 99% of safaris delivered as promised or better with 53% of clients returning on safari or referring friends to the company. The consulting team is on call 24/7/365ZAMBEZI is a registered trademark owned by Zambezi Safari and Travel Co LTD.